Thoreau Introduced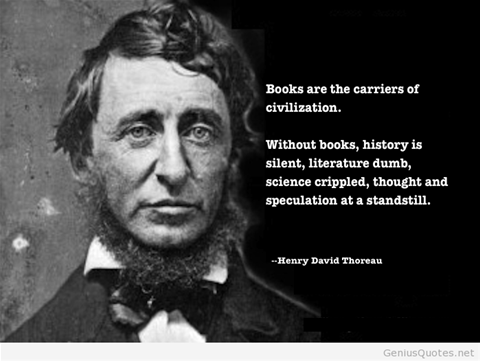 Henry David Thoreau could easily become the envy of those who love Ralph Waldo Emmerson if it is true that they had frequent personal contact. While Thoreau needs little if any introduction for his wisdom I'm calling attention to his appearance on the planet this day, July 12, 1817. We never know the influence we can have on a newly born human.
Imagination based upon personal associations to Emerson and Thoreau could take us far as "iron sharpens iron". Just imagine having the opportunity to share breakfast with Emerson who was 14 years Thoreau's senior. Better still consider choosing someone you admire who would be willing to allot time in conversation with you! Add to that the great quotes from these two men and how true and relevant their wisdom is for us. Not only can we find a wise and trusted mentor but we have the wisdom of these men in writings and stories they left us. The quotes are capsules into their thinking and philosophies.
As Thoreau might say, "Find your Emerson". Who knows the limits of our own success by calling great minds to our aid? Surround yourself with like-minded aspirants to excellence. Then consider becoming the mentor to one person or to countless generations. 

Gratitude goes out to Thoreau and our friends with whom we share the planet. We've much to take advantage of in our service with and to humanity! With the written word we have oceans to explore.